Fundraising Collecte de Fonds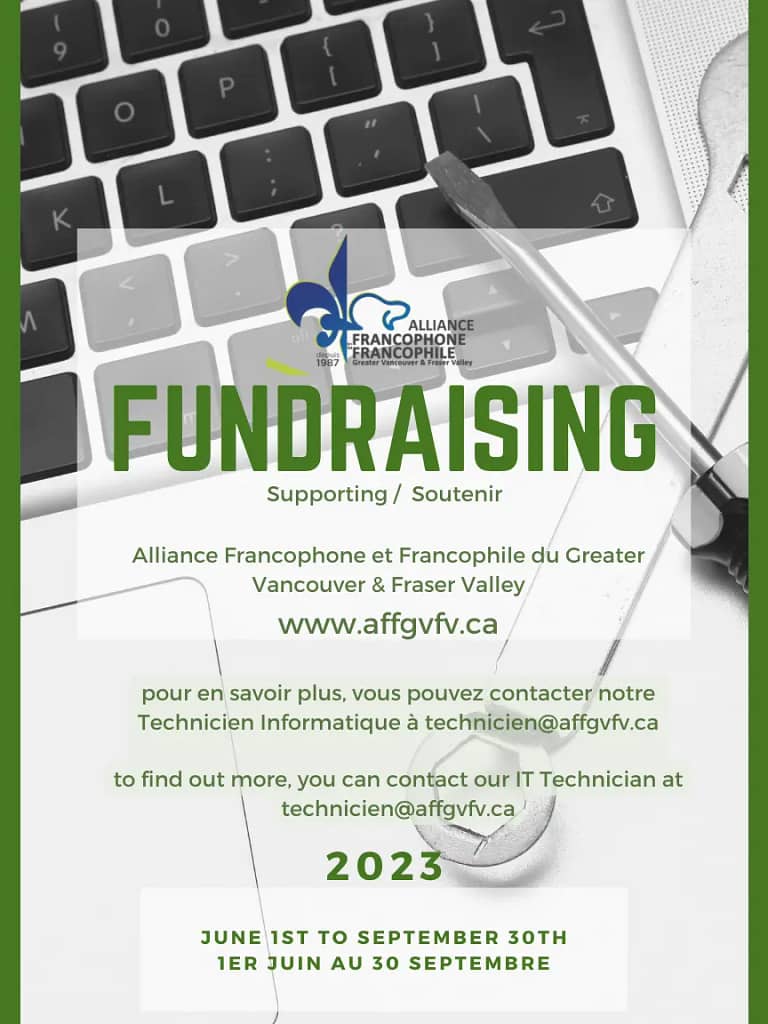 Nous sommes heureux de lancer une collecte de fonds qui propose des services informatiques abordables pour vous aider à améliorer votre expérience informatique tout en soutenant l'Alliance Francophone et Francophile du Greater Vancouver et Fraser Valley.
Nos services informatiques comprennent:
Nettoyage de logiciels malveillants pour seulement 30$ : Cette étape consiste à supprimer les virus, les logiciels malveillants et les programmes indésirables qui peuvent causer des problèmes de sécurité et ralentir votre ordinateur.

Refonte du système d'exploitation pour seulement 30$ : Cette étape est destinée aux ordinateurs plus anciens qui ont des difficultés à exécuter les systèmes d'exploitation Windows ou Apple. En remplaçant le système d'exploitation par Linux, ces ordinateurs peuvent être plus performants et continuer à être utilisés pendant 5 à 10 ans supplémentaires.

Sauvegarde de données pour seulement 30$ : Cette étape consiste à sauvegarder les données importantes de l'utilisateur sur un support de stockage (disque dur externe, clé USB, etc.) fourni par le client.

Support technique à distance de 2 heures pour seulement 50$ : Il s'agit d'une aide technique à distance pour aider les utilisateurs à résoudre les problèmes informatiques qu'ils peuvent rencontrer.
Cette collecte de fonds sera en cours pendant trois mois, du 1er juin 2023 au 30 septembre 2023. Profitez de nos services informatiques abordables tout en contribuant à une cause importante pour la communauté francophone et francophile de la région de Vancouver et Fraser Valley.
Pour en savoir plus, vous pouvez contacter notre technicien informatique à technicien@affgvfv.ca
To find out more, you can contact our IT technician at technicien@affgvfv.ca
We are pleased to launch a fundraiser that offers affordable IT services to help improve your IT experience while supporting the Alliance Francophone et Francophile du Greater Vancouver et Fraser Valley.
Our IT services include:
Malware cleanup for only $30: This step removes viruses, malware, and unwanted programs that can cause security issues and slow down your computer.
OS Overhaul for only $30: This step is for older computers that have difficulty running Windows or Apple operating systems. By changing the operating system to Linux, these computers can perform better and continue to be used for another 5-10 years.
Data backup for only $30: This step consists of backing up the user's important data on a storage medium (external hard drive, USB key, etc.) provided by the customer.
2-hour remote technical support for only $50: This is remote technical assistance to help users solve computer problems they may encounter.
This fundraiser will be ongoing for three months, from June 1, 2023 to September 30, 2023. Take advantage of our affordable IT services while contributing to an important cause for the Francophone and Francophile community in the Vancouver and Fraser Valley.